Buyer's Frequently Asked Questions
Buyer's Frequently Asked Questions
Buyer's FAQ
 Who are we?
Cottage Baker is a unique online local marketplace that connects bakers, artisans, cottage food operators, and similar small food businesses directly to customers who want to purchase hand-made confections, healthy treats and unique baked goods.
Why do some products have badges?
Some product images have a badge in the upper left corner. These badges indicate the degree of licensing their seller has verified with Cottage Baker. It is important to note that licensing requirements and ingredient restrictions vary widely between counties and states, so not all products require a license to sell online depending on the location of their seller and the ingredients used.
The three badges currently supported by Cottage Baker are CFO, FHC, and BIZ.
CFO
The Homemade Food Act allows individuals to prepare and/or package certain non-potentially hazardous foods in private-home kitchens and sell them to the public. Individuals who own and run these home-based businesses are known as Cottage Food Operators (CFOs). All cottage food operators are required to meet specific requirements in line with their Local Health and Safety Code related to preparing foods that are on the approved food list. Completing a food processor training course, implementing sanitary operations, establishing state and federal compliant labels, and operating within established gross annual sales limits are all requirements to become a CFO. The Cottage Food Law also limit the selling venue, in almost all States, a CFO cannot legally ship the product, orders have to be delivered or picked up in person.
FHC
In some situations a Food Handler Certificate (FHC) is all that is required. An FHC is obtained by a seller by completing food handler training courses.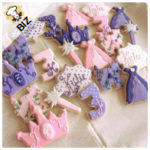 BIZ
Cottage Baker also supports established small, local businesses. The Biz badge is assigned to sellers who have a commercial business license. Examples include Bakeries, Donut Shops, and individuals who operate from a commercial kitchen.
 

How does Cottage Baker verify sellers' licensing?
The Cottage Food Law allows properly licensed home bakers to produce and sell food made in their own home kitchen. While Cottage Baker allows anyone to register as a seller, we require that they provide a valid bank account and proof of their certification or license. Until Cottage Baker has the proof of a seller's certification or license the seller's products will not be marked with the appropriate badge.
Cottage Baker is only a platform, but we do what we can to ensure you receive quality products from local sellers. In the end, sellers are responsible for making sure they follow the local law and regulations. If you become aware of a seller on Cottage Baker not adhering to their local regulations, please do let us know by sending us an email at support@cottagebaker.com.
How do refunds work?
Since most products sold on Cottage Baker are consumable and made to order, refunds can be a difficult matter.  We do our best to make sure that every refund request receives fair consideration to protect both the buyer and the seller. To this end, each seller has the ability to define the number of days after an order is fulfilled that refund request is allowed. This refund window means that neither the seller nor Cottage Baker receives any payment until the refund window closes. This is a powerful motivator to provide you with the best service possible.
Can I search products available in another location?
Absolutely. You can enter any valid address on the map of the Shop page, and it will move your home indicator to that location. This allows you to order gifts and have them delivered fresh to friends and family members. Don't forget to enter a different shipping address at Checkout, and the delivery charge will be re-calculated automatically for you.
Which address does it use to calculate shipping and delivery charges?
Unless you change the shipping address at Checkout, the Shipping Address in your Personal Dashboard will be used to calculate delivery charges.
What if the only delivery method available is Local Pickup?
Every seller has it's limitations in terms of getting their products to you. These could be determined by the product itself, traffic patterns, of even available modes of transportation. To accommodate this wide range of abilities, Cottage Baker allows each vendor to specify how far they are willing to travel for each product to put it into your hands, and how much they want to charge. We call this, Local Delivery. You will undoubtedly encounter products you would like to purchase that are too far away for Local Delivery. If all you see is Local Pickup as an option at Checkout then your location is too far away for the seller.
One thing you could do in cases like this is message the seller (every product has a Send Message link) if you are too far away, and arrange a Local Delivery location and time that is within the supported distance.
Why do some products not support Local Pickup?
Every seller has the ability to choose whether they want to support Local Pickup. Some sellers are very private and do not want strangers knowing where they live. That is certainly understandable in this day and age. If the seller chooses not to support Local Pickup it will not appear as a delivery option at Checkout.
Why are some products ship-able and others not?
There are strict rules for when food products can be shipped and when they cannot. Primarily this depends on where the food is produced and the type of licensing the seller has (e.g. whether the products are made in a licensed commercial kitchen) and what ingredients are used. While there exist marketplaces that do not care whether a product is legally ship-able or not, at Cottage Baker we make our best effort to ensure our sellers adhere to the law for the safety of our buyers while doing everything we can to support our talented sellers.